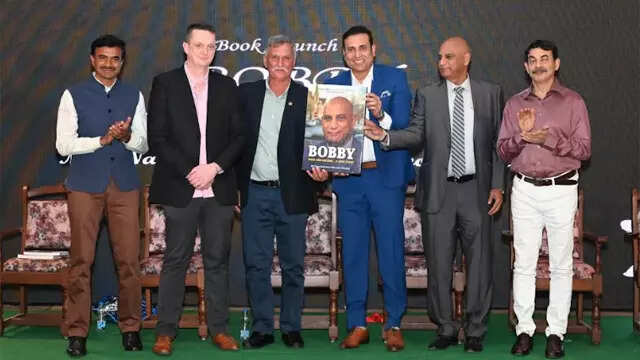 It was ironic that when Hyderabad cricket was going through one of its dark phases, the very best of the lot gathered to celebrate only their second Ranji Trophy title win way back in 1987-88.
But as the protagonist put it, it is during dark times that one needs to "put shoulder to the wheel," and that statement lucidly illustrates the player, man and leader MV Narasimha Rao is.
Bobjee, as he is fondly called in Hyderabad and Bobby Rao, as he is called in Ireland, which he made home after 1988, has reasons aplenty to be proud of when he looks back on his cricketing career spanning two decades, which included four Tests, with the piece de resistance being the Ranji title triumph. Quite a feat for the all-rounder – middle order bat, leg-spinner and fantastic close-in fielder — considering it was Bobjee's coach, Eddie Aibara, who won the previous Ranji title for Hyderabad in 1937-38.
Incidentally, it was a feat that
VVS Laxman
, probably Bobjee's most famous student, and he's coached a famous few, lamented he couldn't achieve despite Hyderabad making the final in 2000.
Stories like these made for a heady Saturday evening as Bobjee's family, friends, teammates and contemporaries gathered to celebrate his career and unveil BOBBY India and Ireland… A Love Story, a book he co-authored with Conor Sharkey. "It was my first coaching class at St John's Academy and Bobjee sir had come and wanted to check our grip. I was so overwhelmed that I showed him the wrong grip," recounted Laxman.
Bobjee, Laxman said, played a big role in his growth as a cricketer and as a human being. "He followed my career and wherever in the world I was playing, he would call me to tell me how I could improve. To leave the country and achieve what he did overcoming racism is commendable. Every time I talk to (Eoin) Morgan, Willliam Porterfield, the O'Brien brothers and Ed Joyce, they ask about him and that shows the impact he has had on them. And for all the talk of his rockstar looks, I saw that even in Strabane (Northern Ireland) he follows all the Indian traditions," Laxman recounted and lauded Josephine, Bobjee's wife and his three children for being a constant source of support and encouragement.
Bobjee's selfless work in sport and his courageous service to the ethnic community in Northern Ireland saw him being awarded the MBE. "It's not grip and technique but teamwork and oneness that makes a team successful. The Hyderabad team that won the Ranji Trophy was like a family. Personally, I owe my career to my brother Ranganath Rao," Bobjee said.
There were more stories of Bobjee's flowing locks, yellow car and squatting on concrete benches to watch him and Saad bin Jung bat against Clive Lloyd's West Indies at the Lal Bahadur Stadium in 1978. His contributions to the HCA Academy were also recalled.
BCCI president Roger Binny recounted what a prankster Bobjee was during his time with the Indian team and such a foodie. "We had a great time playing for South Zone in the Duleep Trophy and India. Hyderabad brings back so many fond memories. Every year we had to come to Hyderabad for the season opener (Moin-ud-Dowlah Gold Cup)," he recalled.
City commissioner of police CV Anand, principal IT secretary (IT and Industries and Commerce) Jayesh Ranjan and author Sharkey were also present on the dais. Former BCCI (interim) president N Shivlal Yadav, Arshad Ayub, Abdul Azeem, Vijay Mohan Raj, Rajesh Yadav, Hari Mohan Paruvu, RA Swaroop, Jyothi Shetty, Ehtesham, Faiyaz Baig, Kanwaljit Singh, Noshir Mehta, 3Vikram Mansingh and Vidyuth Jaisimha were part of the gathering.
.