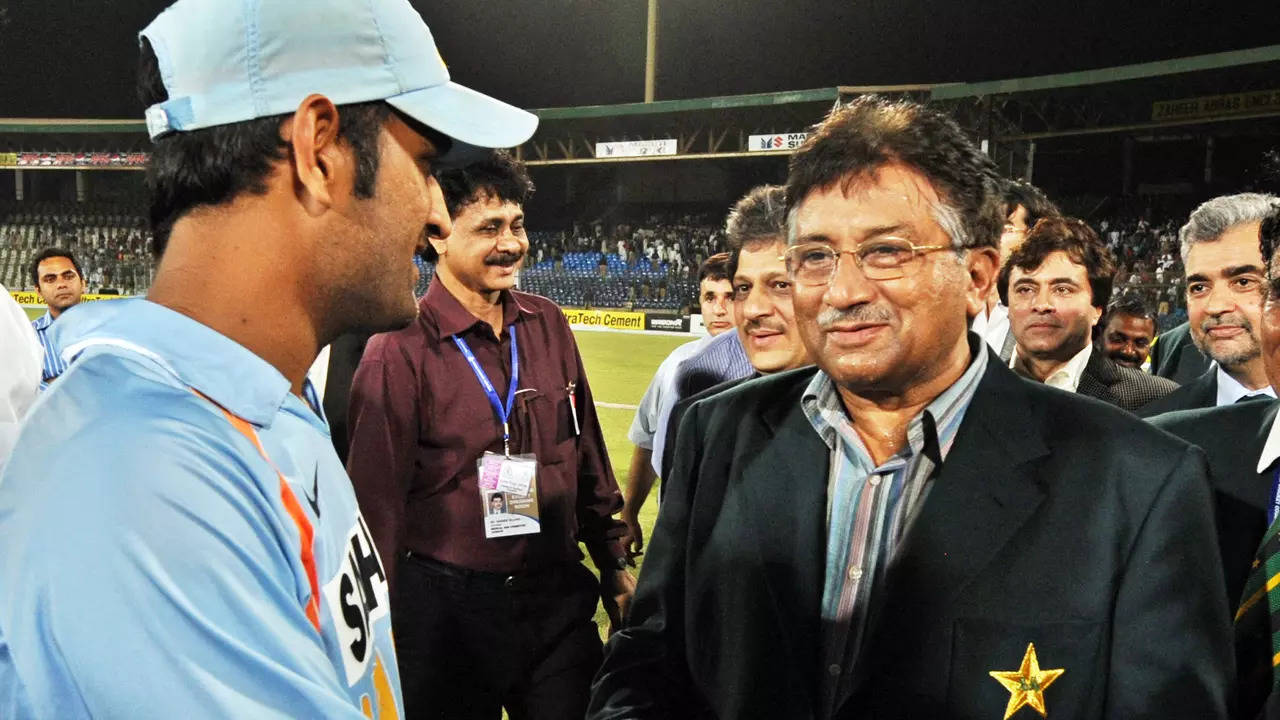 KARACHI: Pakistan's former military ruler
Pervez Musharraf
, the architect of the Kargil War in 1999, loved his cricket.
Musharraf, who passed away in a Dubai hospital on Sunday, used cricket as a strong diplomatic tool to improve relations between the two countries when he led Pakistan first as Chief Executive and then President.
An avid follower of the game, Musharraf wasted no time in bringing his blue eyed boy, Lt-General Tauqir Zia, as chairman of the cricket board soon after his military coup in October 1999.
But in 2003 the moment he learnt that Tauqir's son Junaid had played for Pakistan, Musharraf asked the PCB chairman to resign as he saw the entire episode as a conflict of interest.
Musharraf then brought in former career diplomat and ex foreign secretary, Shaharyar Khan, who had served as ambassador in New Delhi, to head the cricket board.
And a few months later, Shaharyar fulfilled Musharraf's ambition of having the Indian team tour Pakistan.
Before Musharraf's coup, Pakistan had been to India in early 1999 when
Atal Bihari Vajpayee
was Indian Prime Minister but after that there were no bilateral exchanges between the two countries until 2004.
The Indian team led by
Saurav Ganguly
came in March-April 2004 and it turned out to be a famous diplomatic success for the military ruler as the top names from India including government ministers and celebrities were invited to Pakistan to watch the matches with red carpet treatment laid out for them.
The tour was a success with Musharraf wasting no opportunity to have photo shoots with the Indian team and his famous remarks about MS Dhoni's hairstyle became a hit in both countries.
His meeting with the Indian team players were all exercises aimed at softening relations between the two countries and to portray himself as a moderate and liberal leader.
And the plan worked to a great extent as never in the tenure of a Pakistani premier or President did so many Indo-Pak bilateral series take place than in Musharraf's tenure.
After the 2004 series, India came again to Pakistan in early 2006 while the Pakistan team also toured India for full Test series first in 2005 and then in 2007 returning to Pakistan in 2008 for the Asia Cup.
Before Musharraf's time, bilateral tours between the two countries had been far and few with huge gaps in between. Pakistan went to India in 1979-80 after a gap of nearly 18 years and India came to Pakistan in 1978/79 for the first time since 1954/55.
Ironically these tours in the late 70s also took place during the tenure of another military dictator, General Zia ul Haq, who also used cricket diplomacy to reduce tensions.
Musharraf himself wasted no opportunity to show up at cricket matches even in India when Pakistan was playing. In 2005, he turned up at the Feroze Shah Kotla ground to a warm welcome.
.