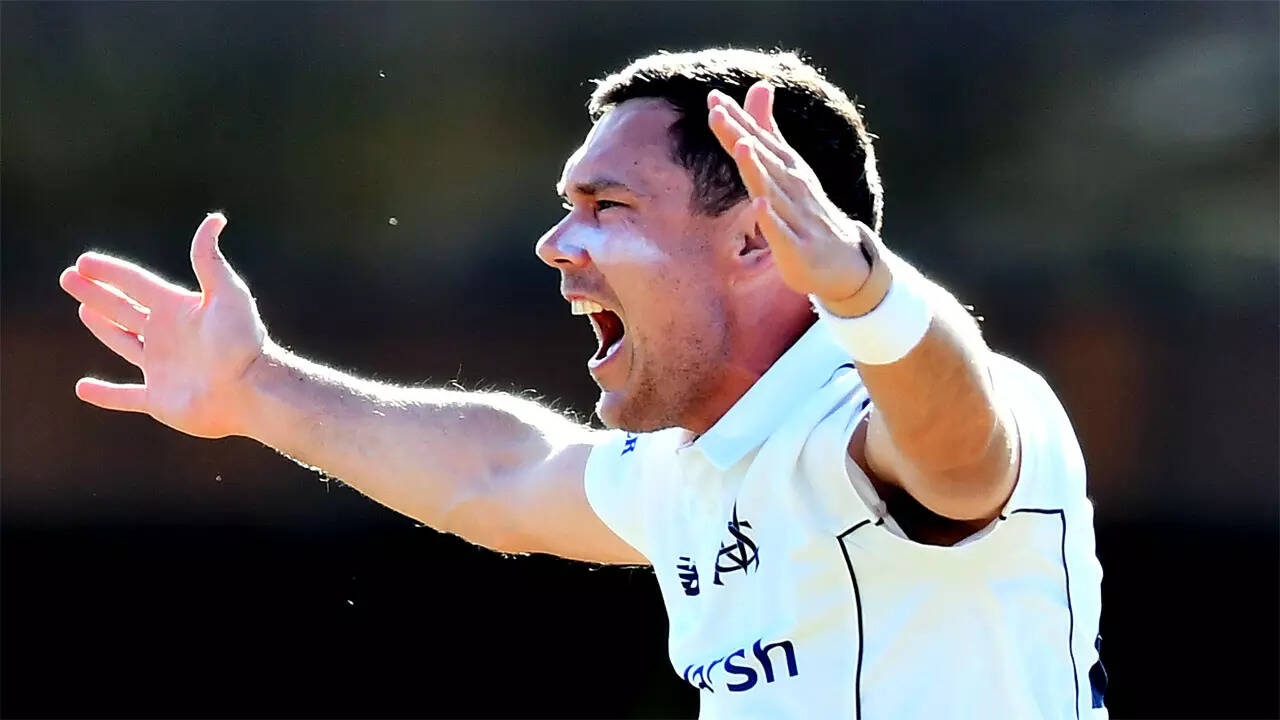 NEW DELHI: In team sport, the role of a filler is often understated. At times undervalued too.
They come without much hullabaloo, quietly go about their business and then swiftly move out of the photo frame when the rightful owner of the team slot makes a return. The exit is as much unnoticed as is the entry.
Two months shy of his 34th birthday, Scott Boland doesn't have too many Test matches left even though he might tell you that he has miles in his legs, which are still to be consumed.
Neither does he have a back-bending toe-crusher like Mitchell Starc nor a mean bouncer like skipper Pat Cummins or his express pace. Josh Hazlewood's unerring Glenn McGrath-like "top of off" accuracy is also not his speciality.
But with a bowling speed hovering in the range of early to mid-130s, Boland, in his six Tests so far, has shown bustling energy and ability to hit the hard lengths unfailingly.
Come Thursday, the burly Victorian is all but certain to share the new ball with his skipper Cummins in the absence of Starc and Hazlewood, both out due to injuries.
While he plays Sheffield Shield for Victoria, Boland, in Grade Cricket, captains a club with a pretty weird name — Frankston-Peninsula.
In fact, in an article published by abc.net.au, the club is described as the "least glamorous destination" in Victorian Premiership competition.
The description of the location supplements the theory.
"Its home ground sits awkwardly on a hill between the loading dock of a homemaker centre and the tracks of the little-used Stony Point railway line."
Boland, who had a forgettable white-ball debut back in 2016 against India in one of the inconsequential bilateral money-spinners, actually could never have envisaged that he will have an Ashes debut on Boxing Day at his home ground.
At least that's what his manager Nick Byrnes had told codesports.com.au.
The website wrote, "You have just got to put your best foot forward, and you know, a few injuries … he told Boland in the tone of a reassuring uncle."
Even his father Mick Boland said that leave alone figures of 6/7, they didn't even see his debut coming.
"No. not really … it all came about a bit unexpected. And then it came with a rush," he had told codesports.com.au.
And a year before, a noted UK-based company, which used to be his bat sponsors, had decided to discontinue his sponsorship. May be they didn't see any future in a 32 year old back then.
Boland is not just any Australian cricketer but his presence in the set-up has deeper social context.
Boland is only the second Indigenous male Test cricketer after Jason Gillespie to play for Australia.
Boland represents the Gulidjan tribe from Colac in Victoria and he only came to know about his Indigenous heritage after his grand dad passed away.
The Indigenous community hasn't had much of a representation in mainstream international cricket and every time Boland crosses the boundary rope, he carries the hopes, aspirations, dignity of his community.
In a four-part Amazon OTT documentary series 'Test', one would see that Boland walks into the Australian dressing room and his allocated seat is near the fridge and the coffee machine and not on the other side where he gets to sit as a senior Victorian cricketer.
Skipper Cummins was seen saying in the commentary how he might not ever get a chance to play Test again after having toiled 12 years at first-class level to earn his Baggy Green.
"Our record of promoting Indigenous cricketer is a shameful one. Australia has fallen well short of where it should be," Gideon Haigh, inarguably one of the greatest cricketer writers in contemporary times was heard saying in the documentary.
Boland himself said in that docu-series that he understands the value of his identity and whom he represents as he intends to travel to remote areas of Australia to help the youngsters of Aboriginal community take up cricket seriously and promote the game, bringing his community into the mainstream.
If Boland gets a chance to play the first Test here, he would probably like to walk the talk as he said in episode No. 2 of 'Test'.
"The best way for me to be a role model is to keep playing cricket. And keep being seen. You can't be what you can't see."
Scott Boland wants to be seen. For himself and for his community.
.