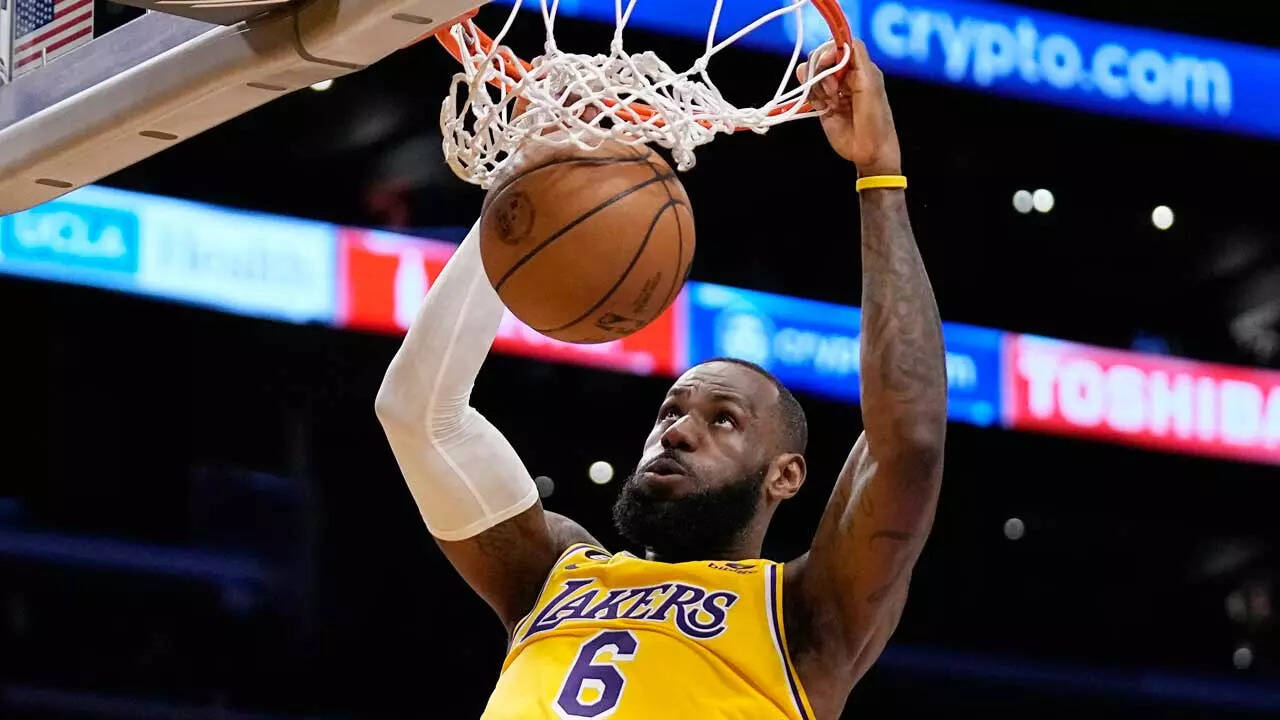 LOS ANGELES: It's Oscars season in Los Angeles but instead of the red carpet all eyes are on the
NBA
hardwood where
Los Angeles Lakers
forward
LeBron James
is on the cusp of becoming the league's all-time leading scorer.
James needs 36 points to eclipse Lakers great
Kareem Abdul-Jabbar
's record of 38,387 points and will get his first chance to do so at home on Tuesday against the Oklahoma City Thunder.
Tickets for that game start at $284, 50% higher than the team's season average, according to ticket retailer StubHub.
Prices are higher still for Thursday's home game against the Milwaukee Bucks, indicating the market believes that James, who is averaging 30 points per game in his 20th season, will need two games to reach the mark.
To rub shoulders with Hollywood's brightest stars, courtside tickets for Tuesday's contest could set you back as much as $48,403 and Thursday's an eye-watering $68,995, according to retailer TickPick.
The sticker shock has led some Lakers fans scrambling to find ways to witness history at a discount.
"I just texted my boy right now to see if he can get tickets for Tuesday's game, because that's when I think he'll break it," Moses Maldonado said while watching a Lakers game on Saturday at Legends Sports Bar in Long Beach.
"He works for the Lakers but he hasn't replied yet," he said. "I've got to get into that game. I've got to be there."
Others said breaking the record will help James, who won championships in Miami and Cleveland before collecting his fourth title as a Laker in 2020, step out of the shadow of the late Kobe Bryant.
Bryant, one of the most beloved players to ever don the purple and gold, is fourth on the all-time scorers list.
"I remember us being on vacation with Melo and D-Wade, we talked about this some years ago."Chris Paul on LeBron… https://t.co/0K7OvS6s6Z

— Duane Rankin (@DuaneRankin) 1675278088000
"This might be one of those things that helps endear him to L.A.," said longtime Lakers fan Mike DeMars.
Standing alone atop the scorers mountaintop undoubtedly bolsters James's case for being the greatest of all time, although that debate will likely never be settled, said Long Beach native Mark Ellis.
"For me it's hard to compare different eras because the game was different back in the 80s and 90s," said Ellis. "But he's on the Mount Rushmore that's for sure. For me, he's one of the top four players in the NBA ever."
.